THE MARIO BONI ARCHITECTURE PRIZE
AWARD FOR THE BEST DIPLOMA WORK OF THE YEAR
AT THE ACADEMY OF ARCHITECTURE, UNIVERSITÀ DELLA SVIZZERA ITALIANA
The Mario Boni Architecture prize
The Boni Award is held in memory of Mario Boni, a property developer who was born in Lugano in 1950 and passed away at before his time 1998.
The award is presented to a student enrolled at the University of Italian Switzerland's Academy of Architecture.
The award focuses in particular on projects that have successfully incorporated conscious respect for the territory, the quality of life in individual and collective spaces, research into the characters of construction and structure and the quality and effectiveness of the representation.
The award - the first in the history of the Academy - has been presented since 2002.
Mario Boni (1950-1998)
Biographical note
Mario Boni was born on 3 May 1950 in Lugano, the third child of Eligio and Erica Boni. Like his sisters Bona and Giusi, he attended the municipal Junior School.
He then continued his studies at the Don Bosco College in di Maroggia and the Maria Hilf College in Schwyz and later improved his German working in a commercial capacity in Stuttgart.
Returning to Ticino, he took a Diploma as a Construction Draughtsman and Technical Assistante at the High School in Trevano, followed by a Diploma as a Property Developer. After spending some time in London, he joined his father working on building sites, before launching out on his own with the Boni-Foglia firm. As a child, his creative games had always included daring construction projects, while his early fascination with electrical engineering later developed into his becoming an active radio ham.
An open-hearted individual with empathy for others, he was a willing volunteer helping people with disabilities.
He was a member of the Lugano Lions Club.
He died in January 1998, at the young age of only 47, after suffering illness, leaving two daughters Susanna Forte-Boni and Martina Archetti.
Selected sites:
Boni-Niggeler House, Via al Roccolo, Massagno (architects: Campi-Pessina architects)
Refurbishment of houses in the centre of Pregassona
Apartment building, via alle Scuole 16, Cassarate (architect: Giudici)
Apartment building, via Molinazzo 21, Viganello (architects: Sergio Grignoli and Attilio Panzeri)
Refurbishment work in the San Giovanni Hospital, Bellinzona
Terrace houses, Via Praccio, Massagno (architects: Campi-Pessina)
Refurbishment of Boni House, Biogno di Breganzona (preliminary design by architects Reinhart-Reichlin)
The Academy of Architecture*
Ever since its inception within the Università della Svizzera italiana, the Academy of Architecture has energetically and continuously pursued and fostered the culture of the project, namely the mastery of the process that, through the requisite knowledge, praxis and technology, generates the creative act: from intuition to achievement. On this cornerstone, and with the aim of responding to the demands of contemporary culture, rests its teaching, which qualifies and differentiates it in Switzerland and throughout Europe.
In our daily work – in the lecture rooms, studio sessions, research institutes and the many cultural activities we present to the public – our school, more than twenty years since its foundation, has proved capable of raising issues which, moving from the narrowly disciplinary skills, then open out to the social, philosophical and political scenarios in which architecture operates. The mental openness that we seek to develop in this way in our students, the critical ability and creative approach never dissociated from rational thought, form the true path, repeatedly explored and confirmed over time, for training future architects in the complexity of design practice. The Modern Masters succeeded in doing this in times no less troubled than our own, so remaining a model, an enduring point of reference and a morally binding example.
The Academy was founded and is deeply rooted in Ticino, a canton that acts as a bridge between the cultures of North and South: a geographic, linguistic and cultural condition that is extraordinarily favourable to practising and producing quality in the globalized world. In this respect, cosmopolitanism, another feature of our school, remains one of our indispensable values, reiterated every year in the increasingly variegated choice of faculty as in the reception we reserve for students from around the world.
* Source: arc.usi.ch, academy, welcome
Tema del lavoro di diploma 2019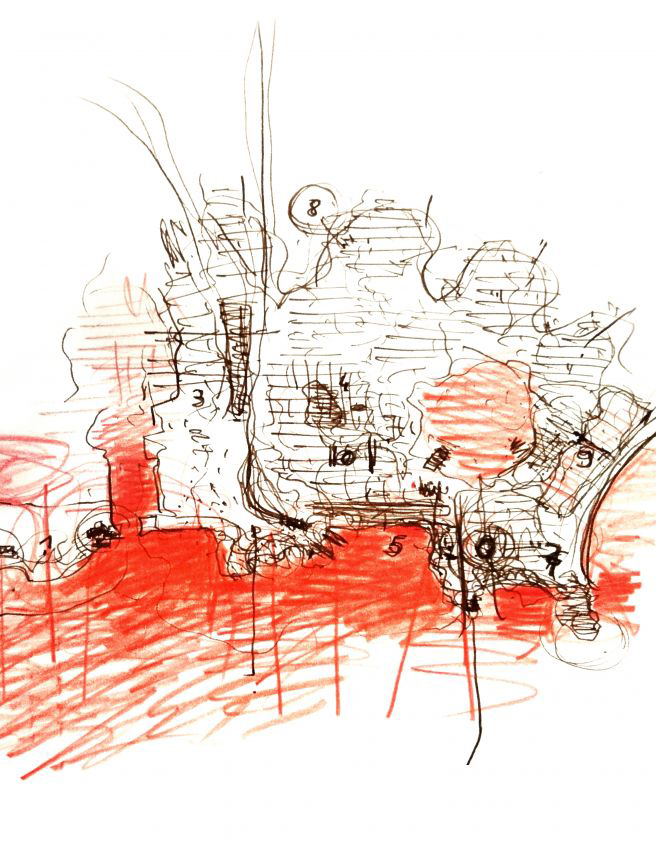 Cagliari*
Il diploma 18/19 avrà come scenario Cagliari e come tema centrale i suoi molteplici problemi di continuità, alla cui soluzione il lavoro della scuola potrà apportare un contributo importante. L'insieme dei siti di progetto scelti illustra in modo esaustivo i temi di una città in profonda trasformazione, in un momento di eccezionale congiunzione. Lo stesso momento politico che la città sta vivendo costituisce un'occasione eccezionale di definizione e consolidamento delle grandi vocazioni di Cagliari, in un processo complesso a cui l'architettura partecipa come importante strumento ed elemento fondativo.
Il Diploma intende contribuire al successo delle sfide contemporanee di Cagliari attraverso un processo teso a dimostrare la rilevanza delle opportunità progettuali concrete, sia in quanto elementi dell'architettura urbana, sia come parti strutturali di un sistema complesso e coordinato, capace di costruire in una città frammentata gli argomenti della sua coesione.
Direttori del Diploma: João Nunes e João Gomes da Silva.
Coordinamento Monica Sciarini e Clara Lopez.
Atelier professori responsabili
Francisco e Manuel Aires Mateus
Walter Angonese
Michele Arnaboldi
Valentin Bearth
Martin Boesch
Frédéric Bonnet
Marc Collomb
Piet e Wim Eckert
Yvonne Farrell e Shelley McNamara
Bijoy Jain
Quintus Miller
João Nunes e João Gomes da Silva
Valerio Olgiati
Jonathan Sergison
Paolo Zermani
* Fonte: arc.usi.ch, didattica, diploma
Cagliari*
The 18/19 Diploma will have Cagliari and its many problems of continuity as its central theme, with the school's work being capable of contributing in important ways to their solution. The set of selected project sites comprehensively illustrates the themes of a city in profound transformation, in a period of an exceptional conjunction of circumstances. The political phase that the city is experiencing provides an outstanding opportunity to define and consolidate Cagliari's great potential, in a complex process in which architecture participates as an important instrument and founding element.
The Diploma work seeks to contribute to the successful outcome of Cagliari's contemporary challenges by a process aimed at demonstrating the relevance of concrete project opportunities, as both elements of urban architecture and structural parts of a complex and coordinated system, capable of constructing the factors making for cohesion in a fragmented city.
Diploma Directors: João Nunes and João Gomes da Silva.
Assistants: Monica Sciarini and Clara Lopez.
Design Studios Professors in Charge
Francisco e Manuel Aires Mateus
Walter Angonese
Michele Arnaboldi
Valentin Bearth
Martin Boesch
Frédéric Bonnet
Marc Collomb
Piet e Wim Eckert
Yvonne Farrell e Shelley McNamara
Bijoy Jain
Quintus Miller
João Nunes e João Gomes da Silva
Valerio Olgiati
Jonathan Sergison
Paolo Zermani
* Source: arc.usi.ch, courses, diploma